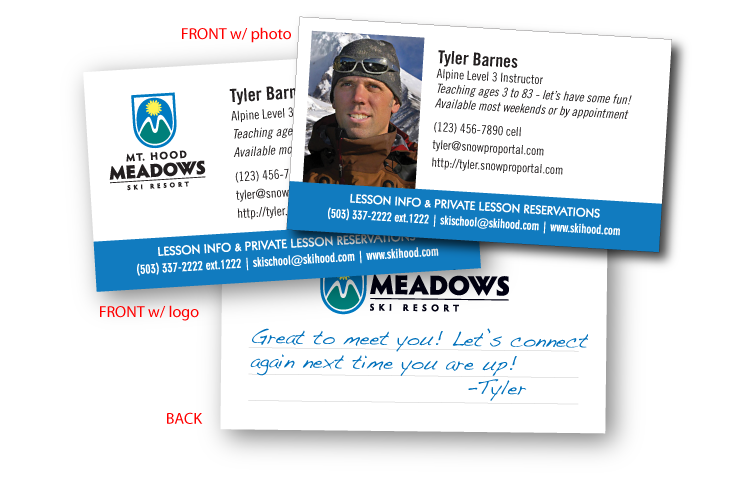 Full Color, Professionally Printed, Personalized Business Cards!
This is the real deal printed on "good conscious" 14 point heavy card stock made from 10% post-consumer and 30% recycled stock using soy-based inks and NO-VOC chemicals, so you can be "green" too. These cards are complete with a high-gloss, flood-varnish finish ideal for our mountain environment where sometimes things can be … shall we say … a little bit moist! These are high-quality, pro-style business cards printed on a real printing press (not a hacker-job color photo copier or ink-jet printer).
You're a pro! Now look like one too!
The Anytime Deal – $55
The Anytime Deal: $55 for 250 Cards – Pay by Credit Card. Order your full-color, professionally printed business cards right now with FREE UPS ground shipping directly to your door or choose to pick them up at the mountain on the weekend in Jan and Feb. Great if you gotta have them right now!
The Full Timer & Group Deal – $30
The Group Deal: $30 for 250 Cards – Pay by Credit Card. Full Time instructors get 1 box per season FREE – just choose "full time" when placing your order. Once 10 people have signed up we can get the Bulk Deal price. The cards will be ordered ONLY when 10 people have made a bulk card purchase. Cards will be shipped to Meadows for pickup the instructor lounge. If you don't mind waiting a little this is a better deal.